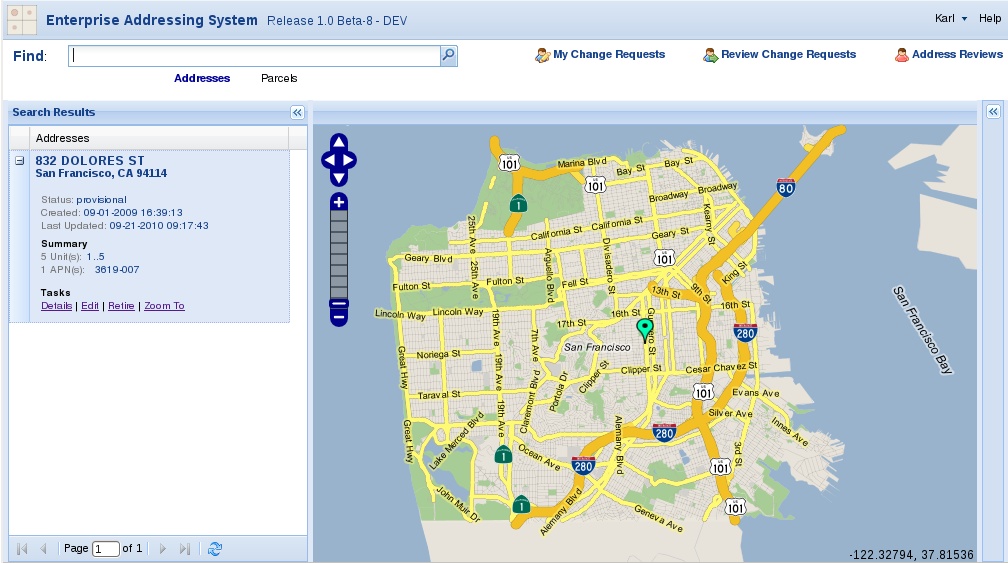 We're pleased to announce that San Francisco's Enterprise Addressing System has now been open sourced!
EAS is a web-based system for managing the city's master database of physical addresses, tied to Assessor's parcels and the City's street centerline network. We posted a short screencast of EAS in action a couple of months ago, and since then there's been a lot of interest in it from other jurisdictions.
Responding to this, San Francisco decided to open source it right away, even before it goes into production in early 2011. Working with lead programmer Paul McCullough and GIS manager Jeff Johnson, last week we moved the source code out to a public repository — preserving a year and a half of development history — and transferred all the bug tickets and documentation likewise. Paul wrote a setup script to help new developers turn the raw source code into a deployable app, and we created a discussion group where those trying out the software can ask questions and share experiences.
From this point forward, all of SF's development on EAS is taking place in the public project. If you're interested in trying EAS, please go to code.google.com/p/eas, check out the tree, and be ready to contribute to improving the deployment procedures. Remember that SF has been developing this internally for a year and a half — the system is tuned for deployability in SF's environment, but it will take a while to make it easily deployable elsewhere.
Also keep in mind that they're concentrating on getting all the 1.0 bugs closed so EAS can be launched in SF in early 2011; other things may be back-burnered until then. The long-term goal, however, is to have a multi-jurisdictional — and even multi-vendor — development community, where no one partner bears the full burden of development, but all partners reap the benefits. (Farallon Geographics, a San Francisco GIS services firm that did some of the coding with the City, is fully on board with this vision, listing open source and lack of lock-in prominently in their presentations to potential clients.)
Kudos to Chris Vein [1] and Blair Adams [2], for having the initial vision that EAS should be both built on open source components and open sourced itself, and for making it happen in the face of tight budgetary constraints and an unflagging development schedule. We're delighted that this vision is now being realized!
[1] Chris Vein is Chief Information Officer for the City and County of San Francisco.
[2] Blair Adams is former CTO of the San Francisco Department of Technology, and is now Information Systems Manager for the Office of the Assessor-Recorder.