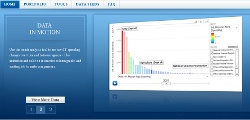 What happens after open sourcing? Do people from elsewhere actually show up, to ask questions, find bugs, and help out?
Six weeks ago, the Federal IT Dashboard was open-sourced. We assisted in that release (see our post) because we strongly believe that open collaboration is the natural path for government software, and because the IT Dashboard in particular was a good candidate for building the kind of multi-jurisdictional community that improves the software while minimizing costs for each participant.
All fine in theory — but does it work in practice?
At the time of the release, we made a note to check back later and see. Six weeks is probably the earliest reasonable moment to take a peek. Below is a brief tour through the nascent IT Dashboard community as it looks today. Of course, there is no guarantee that another project would look the same after the same amount of time, but the patterns we see here are not unexpected.
Note that this overview comes entirely from publicly accessible sources: the mailing lists and forums of the IT Dashboard project. There are jurisdictions privately testing the IT Dashboard that haven't participated in a public way yet. I've left them out of the picture for now; what we're examining here is what the publicly-visible community looks like.
Some of the participants are identified by full name, others by first name (in some cases the full name isn't available, in others it's not important to the overview anyway). This isn't a complete picture, nor is it in chronological order — I've chosen the examples to show that certain kinds of collaboration are happening.
That's just a sample. There's much more going on, including another user-submitted code change, questions and answers about documentation, data entry and authorization, data format descriptions, error messages, finding the database admin password, and more.
For six weeks after open sourcing, that's not bad. Kudos to Vivek Kundra, the Federal CIO who decided to make the IT Dashboard open source, and especially to REI for doing all the right things to build a multi-jurisdictional community.
We'll check back again in a few months!